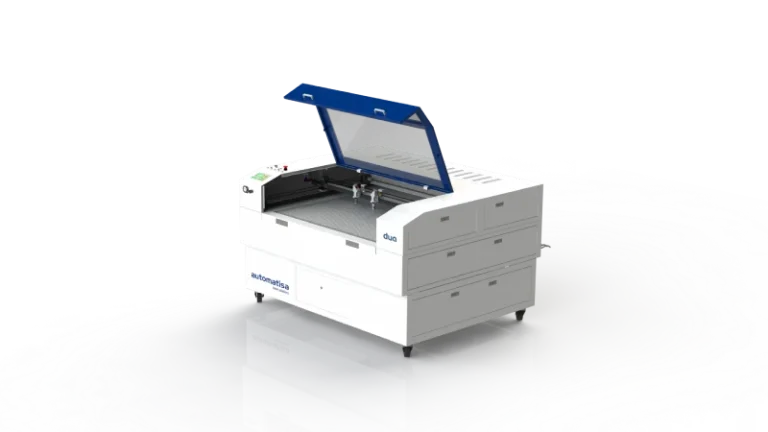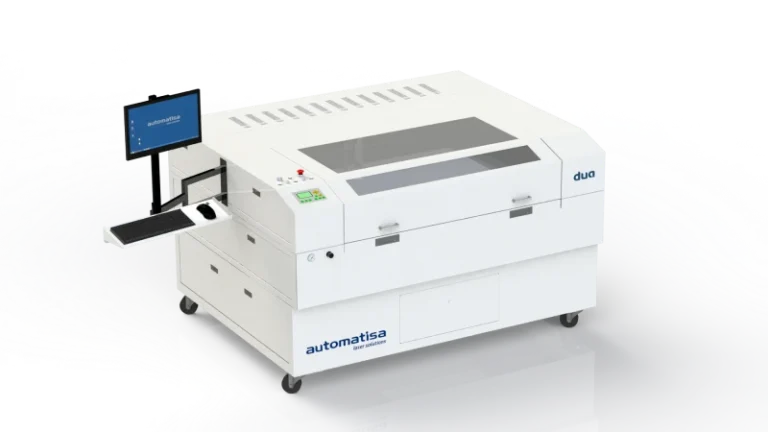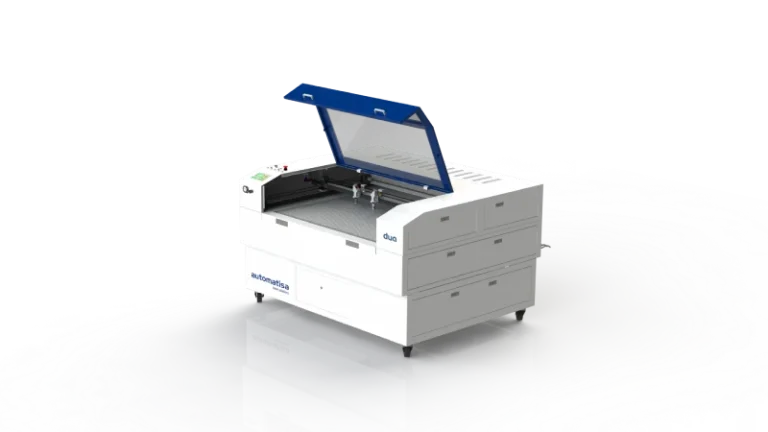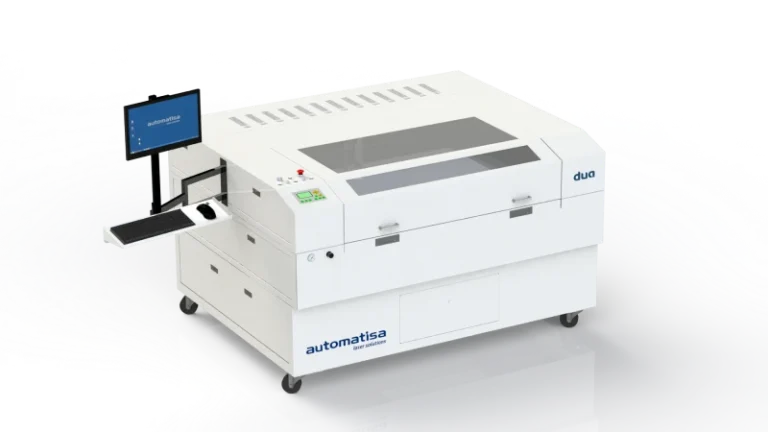 Dua 1209
Dua is a laser cutting machine that was developed to meet the most varied needs. It is marketed to entrepreneurs, but also to multinational companies. It has an adequate working area, while it takes up little physical space and is easy to install. In addition to allowing you to cut a huge variety of non-metallic materials, when equipped with the KCM system, it allows you to cut thin sheets of stainless steel, carbon and galvanized sheet. The Startup version is lightweight and allows recording in large formats, normally used in the manufacture of backlights or other products. This makes the equipment serve different segments, from the textile sector, visual communication, signage, among others.
Check out the video(s) from Dua 1209
Slide to view more options
SPECIFICATIONS
INCLUDED ITEMS
EQUIPMENT VERSIONS
OPTIONAL ACCESSORIES
EXCLUSIVE TECHNOLOGIES
| | |
| --- | --- |
| Laser Type | CO₂ |
| Available powers | 1 or 2 heads of 100W or 150W |
| Workspace | 1200x900mm; 1100x900mm; or 2 x of 900 x 600 mm |
Machine
Operation software in Portuguese
Computer
Electric control cabin and PC support
Japanese Servo Motors
Fume extractor
Knife table in anodized aluminum
Cooling chiller
Pneumatic system with coalescing filter
Protection according to the NR12 standard
Installation and training service
Autosa Standard Warranty
Dua 1209 Startup version: Equipped with a high-resolution stepper motor, it allows, in addition to precise cuts, laser engraving in large formats.
Dua 1209 version: Equipped with a high resolution stepper motor, it can receive SPIA system and/or KCM system.
Dua 1209 Pro version: Equipped with high power Japanese servo motors and can receive SPIA system and/or KCM system.
Dua Version 1209 Startup:
Computer
parts rotator
additional hoods
Lenses for special applications
Dua 1209 / Dua 1209 Pro version:
Computer
additional hoods
Lenses for special applications
SPIA system
KCM system
Available for Version Dua 1209 and Dua 1209 Pro
SPIA is the Automatisa Intelligent Positioning System specially developed to allow cuts of pre-printed materials, based on reference points that accompany the printing. The system makes it possible to make precise cuts around a print, without position templates and without errors caused by manual templates. Video link.
KCM is a special head for metal cutting, which allows you to increase the capacity of the machine for cutting stainless steel, carbon steel and galvanized sheet with the best finish and economy. Through it, it is possible to make cuts of 1.8 to 2mm of carbon steel, 1.2 to 1.5mm of stainless steel and 0.8 to 1.2mm of galvanized sheet. Video link.
THE MAIN
QUESTIONS
What are the main advantages or benefits of the Dua machine?
The advantages are many, but let's list the most important ones:
It is manufactured in Brazil by Automatisa, which is a pioneer in this technology, with spare parts always available at affordable prices.
Lenses and mirrors last up to 4x longer than other machines on the market;
The engines are high resolution and productivity;
With two heads, it produces the equivalent of two machines in just one.
It is easy to install, with minimal infrastructure requirements;
It already comes with a package of drawings for you to invoice;
It has the minimum energy consumption and few wearing parts requirements;
In the Dua and Dua Pro version, you can receive exclusive accessories such as the SPIA System and the KCM System that allow for a great increase in revenue and profit.
Delivers the best cutting and engraving quality and speed on the market.
It has the "Automatisa" quality seal with a real guarantee and remote and on-site technical support.
Which financing lines can I use to buy the Dua machine?
As it is manufactured in Brazil, you can buy it in installments of up to 10 years, with a grace period of up to 2 years through government-subsidized lines such as: Proger, BNDES Finame, BNDES Card. But it is also possible to acquire by leasing-type financing; financing for cash flow and working capital. These lines can finance most or all of your equipment. Our team of experts will inform you of each available alternative.
Can I cut sheet metal that is larger than the working area of the machine?
Yes, because the bottom of the equipment is open, allowing the passage of large sheets without having to be pre-cut.
What are the advantages over a router machine?
There are several advantages, such as:
The laser machine allows polished acrylic cutting without the need for manual polishing or the use of a torch;
Cuts materials without dirt or soot in the working environment, making the environment safer for the operator;
It does not use mechanical tools, so there is no need for constant changes of milling cutters or use of cutting lubricants;
Energy consumption is much lower as it does not need vacuum tables and other similar devices;
Allows the cutting of sharp edges and delicate engravings, which is not possible with a milling cutter.
The added value of laser-manufactured products is greater, so the return on investment is more attractive.
Is it possible to cut materials with PVC?
It is not recommended, although it is possible. The laser cutting of materials with PVC, especially the element Chlorine, results in a hydrochloric gas, which, in addition to being toxic for the operator, causes all the metal parts of the equipment to corrode.
If your application requires cutting PVC, you must take extra care, such as using protective masks with filters suitable for operating the equipment, increasing the exhaustion of the gases produced and cleaning very frequently. Still, the corrosion process will remain. It is also important to know that electronic boards and other devices can suffer damage that are not covered by warranty policies.